"Brain Power" Necessary To Transform Sarawak: Premier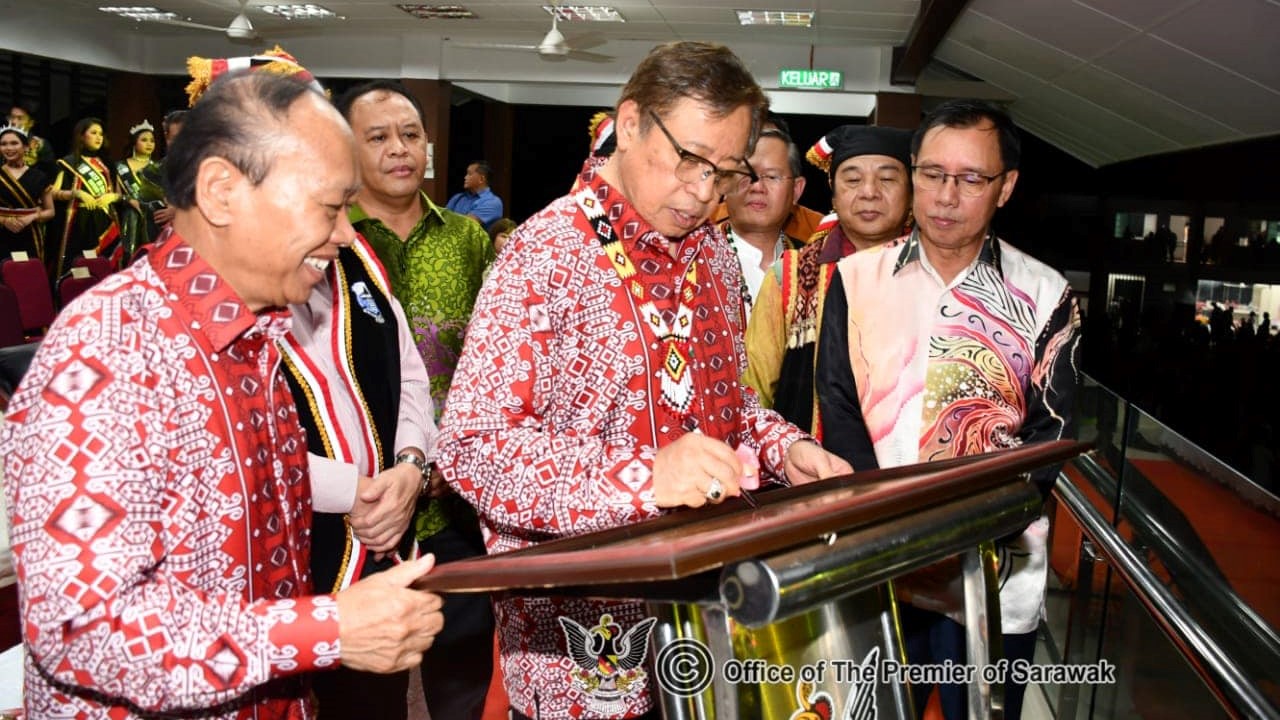 BAU, Sun: The people of Sarawak must have the "brain power" to develop the State into an economic power like Singapore, the Premier of Sarawak, Datuk Patinggi Tan Sri Abang Haji Zohari bin Tun Abang Haji Openg said here last night.
Singaporeans had the brain power to transform the island state into an economic power-house in the region though it did not have natural resources, the Premier said.
He was speaking to the people when officiating at the REDEEMS 25th anniversary and Gawai Bandi (house warming) of the Bidayuh Cultural Village at Kpg Apar in Singgai, near here.
The Premier pointed out that Sarawak was blessed with abundant natural resources but still lacking brain power to achieve what Singapore did under Lee Kuan Yew and those after him.
"If Lee Kuan Yew can transform Singapore, we also can transform Sarawak," he said.
Congratulating REDEEMS for its success to set up the cultural village, he said it was a fine symbol of self-help community development that should reflect the aspirations of Sarawakians to excel towards becoming a developed state with high income by 2030.
He expressed his confidence that the 2030 vision is achievable as long as Sarawakians continue to unite and be focussed on acquiring new knowledge.
Citing the world's quest towards energy transition in order to reverse climate change, he said this gave rise to new fields of knowledge on clean energy, carbon storage and carbon trading.
"These are all new things," he told a crowd of few a thousand people that had thronged the centre to witness the event.
He said the unity of the people and a strong state government had allowed Sarawak to be focussed on pursuing opportunities in these new fields that had the potential to increase the State's revenue in the near future.
Already, Sarawak had been able to increase its revenue from the usual RM4 bil to RM5 bil annually to the projected RM11 this year by charging SST on petroleum products, he added.
"We would continue to be prudent in our spending and will also be investing," he said.
He pointed out that the State's sovereign wealth fund would be Sarawak's investment vehicle in order to generate more revenue for the benefit of the future generations.
Later, the Premier handed over a government grant for RM3 mil to Datuk Peter Nansian Ngusie, the President of REDEEMS for the organisation to complete works at the cultural, educational and research centre.
He also launched a book to commemorate the 25th anniversary of the organisation.
Accompanying the Premier was his wife, Puan Sri Datuk Amar Hajjah Juma'ani Tun Tuanku Haji Bujang.
Among those present were the Minister of Food Industries, Commodities and Regional Development, Dato Sri Dr. Stephen Rundi ak. Utom and the Minister of Education, Innovation and Talent Development, Datuk Roland Sagah Wee Inn.
Also present were Datuk Dr. Jerip Anak Susil, Deputy Minister for Transport I, Mr. Martin Ben, Deputy Minister for Modernisation of
Agriculture and Regional Development II
(Regional Development) and Dato Henry Harry Jinep, Deputy Minister for Transport II.
Sumber dari : Sarawakku