Chief Minister Attended The Launching of Kuching Smart City Masterplan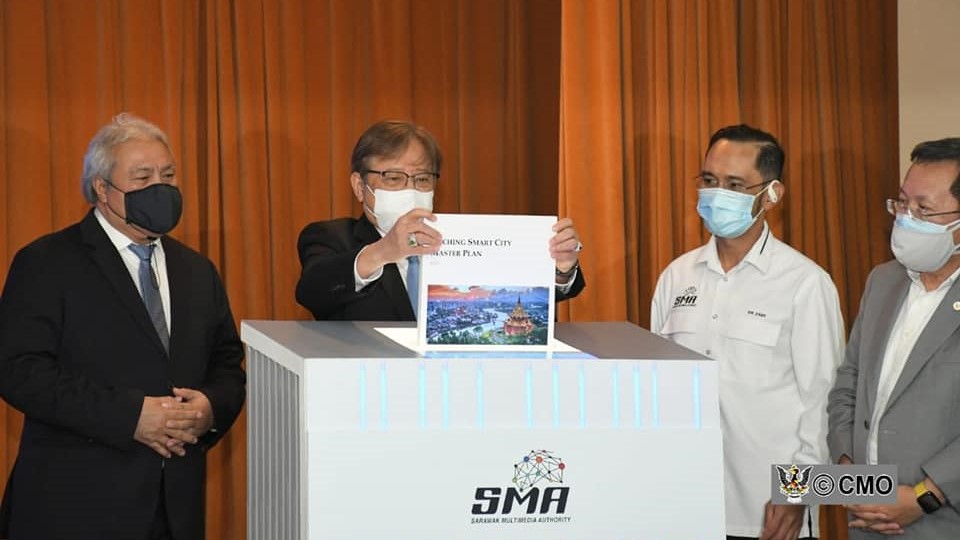 KUCHING, Chief Minister Abang Johari Tun Openg attended the Launching of Kuching Smart City Masterplan (KSCMP) and Memorandum of Understanding (MoU) Exchange Ceremony at Wisma Bapa Malaysia this morning.
The Kuching SMART City Masterplan (KSCMP) was planned by Sarawak Multimedia Authority (SMA), the agency tasked to implement the Kuching Smart City Masterplan, has conducted many engagement sessions with the citizens to formulate the masterplan and to derive solutions from it.
The Masterplan will help develop Kuching as the first Smart City Operating in Malaysia, aiming to connect citizens with the State government as well as provide better city services.
According to the Chief Minister, the plan is to start from Darul Hana in Petra Jaya, then expanded to Padawan and Samarahan. Gradually, it will expand to other cities like Bintulu in Sarawak.
Abang Johari said the technology for the Kuching Smart City Masterplan will also connect Kuching citizens to other cities, such as Miri.
Among those present at the launching of Kuching Smart City Masterplan were Deputy Chief Minister Datuk Amar Awang Tengah Ali Hasan, Utilities Minister Dato Sri Dr Stephen Rundi, Local Government and Housing Minister Dato Sri Dr Sim Kui Hian, Dr Zaidi, Sarawak Digital Economy Corporation (SDEC) chief executive officer (CEO) Sudarnoto Osman, Huawei Malaysia CEO Michael Yuan and Centre of Technical Excellence (Centexs) CEO Syeed Mohd Hussein.
Sumber dari : Sarawakku