Premier, Wife Witness Launch Of Malaysia Craft Exhibition In London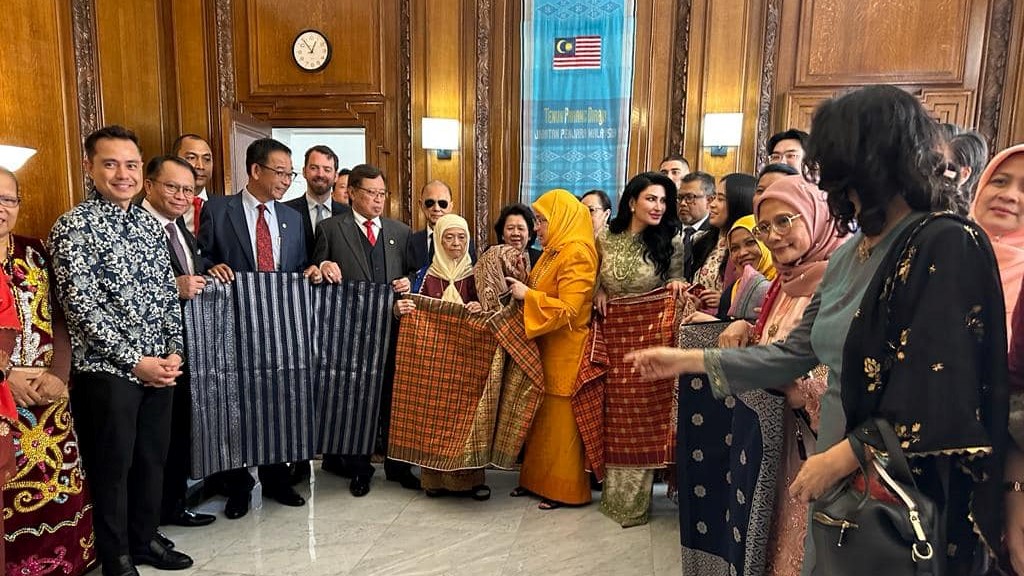 LONDON, Mon: The Premier of Sarawak, Datuk Patinggi Tan Sri (Dr) Abang Haji Johari bin Tun Abang Haji Openg were among dignitaries from Malaysia who witnessed the launch of Malaysia crafts exhibition held in conjunction with the annual London Craft Week at Malaysian High Commission here, yesterday.
The Raja Permaisuri Agong, Tunku Hajah Azizah, a great proponent and promoter of Malaysian crafts was on hand to launch the exhibition that is held from 8th till 14th May.
The Premier was accompanied by his wife, Puan Sri Datuk Amar Hajah Juma'ani Tun Tuanku Haji Bujang, the Minister of Tourism,Creative Industry and Performing Arts, Dato Sri Haji Abdul Karim Rahman Hamzah and his wife, Datin Sri Hajah Zuraini binti Abdul Jabbar, Deputy Minister in the Premier's Office, Datuk Hajah Sharifah Hasidah binti Syed Aman Ghazali, the State Secretary, Datuk Amar Haji Mohamad Abu Bakar bin Marzuki and his wife, Datin Amar Hajjah Baduyah binti Bujang and Chief Political Secretary to the Premier, Fazzruddin bin Abdul Rahman.
The wife of the Head of State, Toh Puan Datuk Patinggi Hajjah Raghad Kurdi Taib was also present.
London Craft Week is an annual event organised in the British capital since 2015 involving commonwealth countries around the world.
Sarawak's participation in the event along with other participating states was at the invitation of the Raja Permaisuri Agong in the effort to showcase the country, Sarawak's unique crafts in particular.
The participating bodies from Sarawak include Centexs Commercial, Tun Jugah Foundation and Brooke Trust with exhibits such as Songket Sarawak, Keringkam, Pua Kumbu and bemban weaving items.
Workshops and demonstrations are also part of the weeklong exhibition.
Sumber dari : Sarawakku