Sarawak Achieve Breakthrough In Microalgae Cultivation: Premier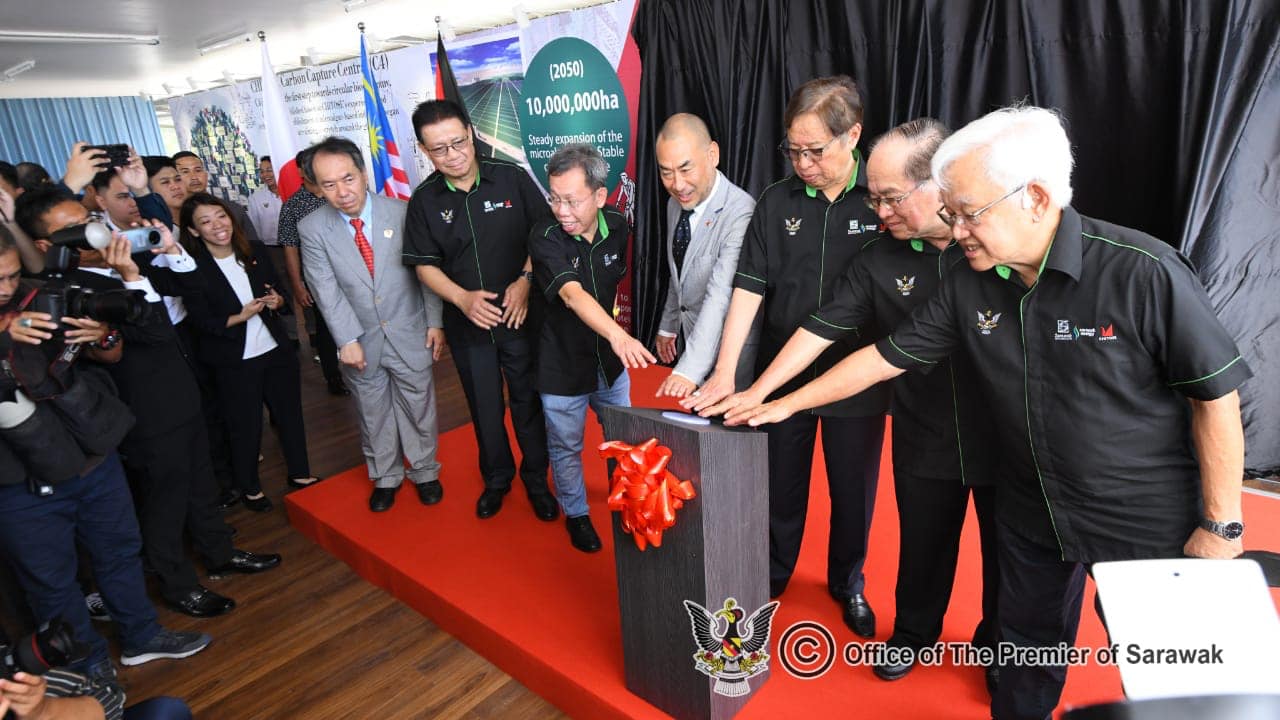 KUCHING, Wed: Sarawak's Premier, Datuk Patinggi Tan Sri Abang Haji Johari Tun Abang Haji Openg said Sarawak has achieved a breakthrough in the development of algae as a renewable source for the production of aviation fuel at the Sarawak Energy's facility in Sejingkat near here.
The five-hectare facility developed jointly by SEB, Sarawak Biodiversity Centre (SBC) and their two Japanese partners where microalgae are raised in bioreactors and feeding them with flue gas that contain carbon dioxide from the adjacent SEB's coal-fired power plant.
"Congratulations to all the partners here today - our Sarawak government-owned power company Sarawak Energy, the Sarawak Biodiversity Centre, as well as our Japanese partners, ENEOS and Chitose Group for your joint efforts to develop this new technology," the Premier said.
The Premier was speaking to officiate at the launch of Sarawak's first microalgae carbon capture facility funded by the Japanese government at Sarawak Energy's Sejingkat Power Plant, near here today.
"Today, we are witnessing not only the launch of a new facility but also, beneath it, there is a remarkable technology that is developed in Sarawak that I have the opportunity to announce today," he said.
In underscoring the huge potential of microalgae to propel Sarawak's economy, he said depending on the technology used, some research shows that algae biomass of 350 tons per year can be generated from a five-hectare site that can be processed into 87 tons of lipid capable of producing about 45 tons of SAF.
At the same time this amount of biomass can also produce 192 tons of protein and 52 tons of carbohydrate, the Premier said.
"This five-hectare facility I believe is the first in Malaysia to demonstrate the viable use of flue gas to enhance the production of algae on an industrial scale.
"The algae biomass could be translated into high quality products such as food and feed, paints, cosmetics, pharmaceutical ingredients and most importantly – Sustainable Aviation Fuel (SAF) that was expected to surpass a huge market value of USD 250 billion by 2030," he pointed out.
He said based on the preliminary estimates of the pilot facility at Sarawak Biodiversity Centre (SBC), an investment into a 2,000-hectare commercial plant can produce up to 140,000 tons of algae biomass annually.
"In addition, some microalgae are also reported to have anti-cancer properties that are important in the treatment of cancerous cells in tumors. What I meant to say is that microalgae have huge potentials in the production of sustainable fuel for the aircraft industry, in food production and in therapeutics.
"The sales from the components of this biomass, that is lipids, proteins, carbohydrates, could potentially generate an economic value of RM 2 to 3 billion per year," the Premier further added.
He said using the average value of USD 6.50 per ton of carbon credit, this could potentially generate USD 1.3 million per year in revenue for a facility of this size.
"As a start, this five-hectare site will serve as a good example of managing carbon in a circular economy, while we gather data to enhance the technology and scale it up to 100 hectares and expand it to 2,000 hectares in the future if it is commercially viable.
"With a 2,000-hectare facility, we can also create up to 5,000 new job opportunities and decarbonise about 200,000 tons of carbon annually," he told guests at the ceremony.
Earlier, the Chairman of SEB, Datuk Amar Haji Hamed Sepawi and Dr. Tomohiro Fujita, CEO of Chitose also spoke.
Also present were Deputy Premiers, Datuk Amar Douglas Ugah Embas and Dato Sri Professor Dr. Sim Kui Hian, ministers and deputy ministers.
Sumber dari : Sarawakku