Sarawak Petchem To Usher In More Projects In Tg Kidurong Petrochemical Hub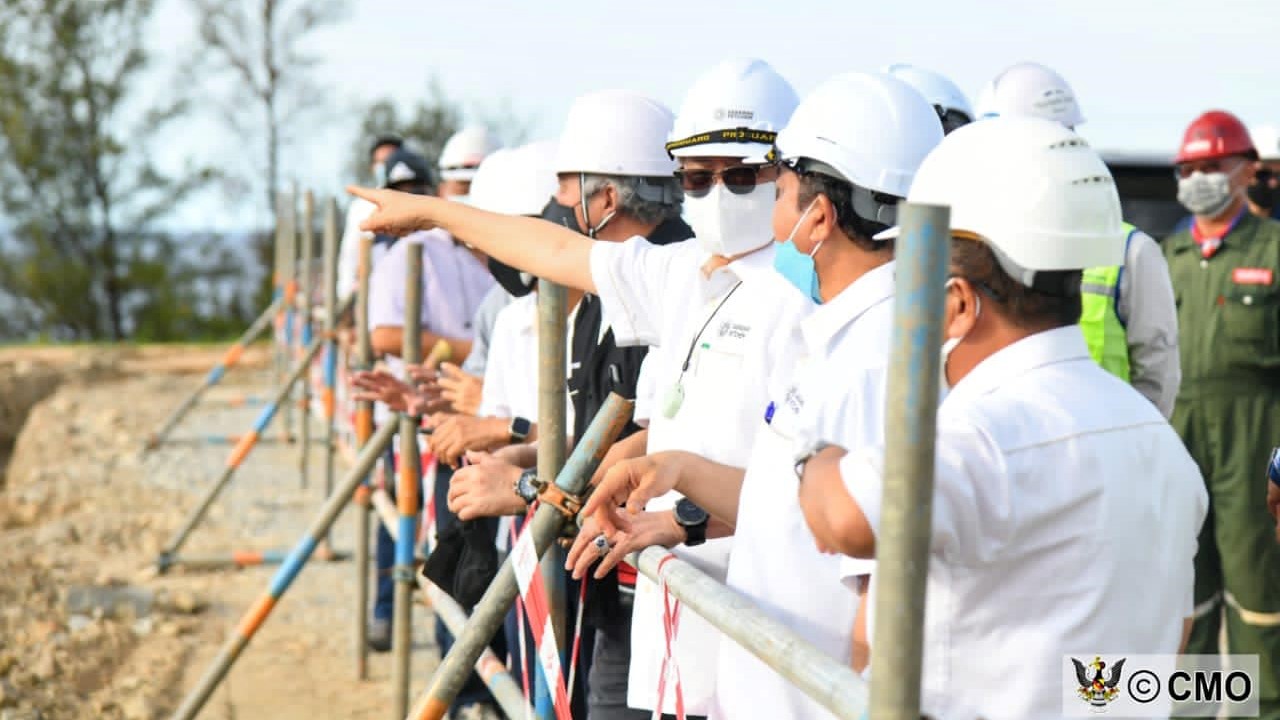 BINTULU: The Sarawak Methanol Plant being constructed in Tg Kidurong here will be a catalyst for future downstream value-added petrochemical industries to transform this gas-rich town into a petrochemical hub, Chief Minister, Datuk Patinggi Abang Haji Abdul Rahman Zohari bin Tun Datuk Abang Haji Openg said today.
He was speaking to reporters in a press conference at the end of his visit to the project site, Sarawak's first wholly-owned petrochemical project undertaken by Sarawak Economic Development Corporation (SEDC).
The Chief Minister pointed out that the GPS government were not contented with the current development of the oil and gas industry in the State.
"The reason being our oil and gas products are still commodity base meant for exports. For example, the production of Liquified Natural Gas, ammonia and urea utilizing natural gas as the feedstock for the industry. The irony is that the value-added activities are done abroad utilizing our natural gas as raw materials in their petro-chemical industries," he pointed out.
"We want to maximize the natural gas utilization through downstream industries in Sarawak. In doing so, we want Bintulu to be the petro-chemical hub in Sarawak through the establishment of SEDC Petchem Hub to realize this objective.
"This Project will undoubtedly be a catalyst to further transform Bintulu from the current world-renowned LNG gas producer to a Petro-chemical hub with future downstream value-added integrated petrochemical complex.
"This will add multiple values to our natural resources which will benefit the state economically derived through its value chains," he told reporters.
He said he was very impressed with the physical progress of the project which was ahead of ahead of schedule despite the challenges of COVID-19.
"This is my second site visit to this Sarawak Methanol Project since my first on 2nd July 2020 and I am very impressed with the physical progress of the project so far," he said.
He commended Petchem management and staff and their project partners, Samsung Engineering Company Limited (SECL) and China Communications Construction Company (M) Sdn Bhd (CCCCM) for a job well done so far.
Datuk Patinggi Abang Haji Zohari said with state of the art and high technology the plant would require a competent workforce to man it, particularly engineers, technicians, operators and specialists that would entail a transfer of technology to the locals.
He said the project generated job opportunities for 4,500 workers during its construction and 300 permanent staff when operational in 2023.
In preparation for its operation in Sarawak Petchem has commenced the 1 year Technician Training Programme (TTP) in collaboration with PETRONAS INSTEP.
All trainees are Sarawakian. Currently there are 74 trainees undergoing TTP at INSTEP. The 2nd batch of 42 trainees will report at INSTEP on 21 November 2021.
Sumber dari : Sarawakku