Sarawak To Cooperate With Global Player On Integrated Chip Design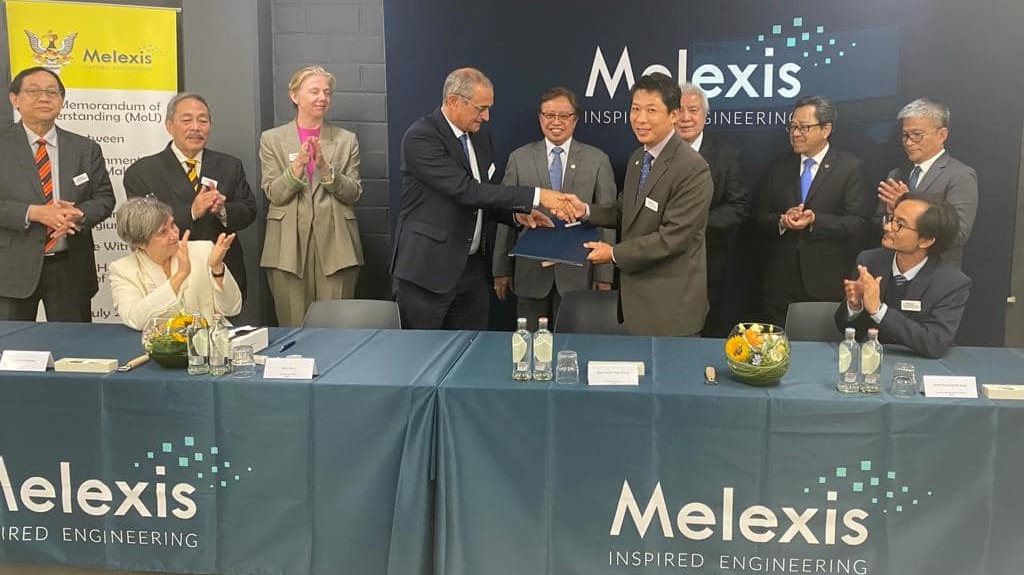 TESSENDERLO (Belgium): Sarawak on Tuesday inked an MOU with a Belgium-based global supplier of micro-electronic semiconductor solutions paving the way for collaboration in integrated chips (IC) design for chips produced in Sarawak.
The MOU signing between the Ministry of Education and Innovation and Talent Development (MEITD) and Melexis Technology was witnessed by Sarawak Premier, Datuk Patinggi Tan Sri (Dr) Abang Haji Zohari bin Tun Abang Haji Openg who arrived here yesterday afternoon on a weeklong working visit to Europe and the UK.
As chip designer and solutions provider, Melexis Technology has been part of the existing XFab chips foundry at the Samajaya Free Industrial Zone that produced chips for use in wide-ranging applications, including in automobiles.
The scope of the MOU includes co-operation in IC design and semi-conductor talent development in Sarawak as part of the state's innovation and talent development programme.
The Premier in his brief address before the signing expressed his belief that climate change and the phasing out of combustion engines in automobiles would see migration of chips' designs to conform to new needs of the energy transition market.
He said therefore the collaboration was important and a step in the right direction to enable Sarawak and the world at large to benefit from chip design development that might originate from Sarawak in the future.
"Sarawak is looking forwards toward this collaboration not only to benefit both Sarawak and Melexis, but also the world," he told the audience that included members of board of directors of Melexis, Sarawak Ministers and Deputy Ministers.
He added that talent development was also important in order to nurture a robust R & D climate in chips design technology in Sarawak.
He said as Sarawak, particularly Kuching, turns towards the development of an Autonomous Rapid Transit ( ART) powered by hydrogen, R & D would undoubtedly become a main feature of the new form of public transport.
Earlier, the chairperson of Melexis Technology Mdm Françoise Chombar spoke to welcome the Premier and members of his delegation.
Datu Kameri Haji Affandi, Permanent Secretary of MEITD signed the MOU on behalf of Sarawak Government and Marc Biron CEO of Melexis for Melexis.
Among those present were Deputy Premier, Datuk Amar Awang Tengah Ali Hassan, Minister of Education, Innovation and Talent Development, Datuk Roland Sagah Wee In and his deputies, Datuk Francis Hardin and Dr. Annuar Rapa'ee.
Also present was the Ambassador of Malaysia to Belgium and Luxembourg and Head of Mission of Malaysia to European Union, Dato' Ahmad Rozian Abd Ghani.
Later, the Premier and his delegation proceeded to Port of Antwerp-Bruges where another MOU would be signed for the proposed development of a new port in Kuching.
Sumber dari : Sarawakku