Sarawak's Timber Industry Plays A Significant Role In The State's Economic Development Strategy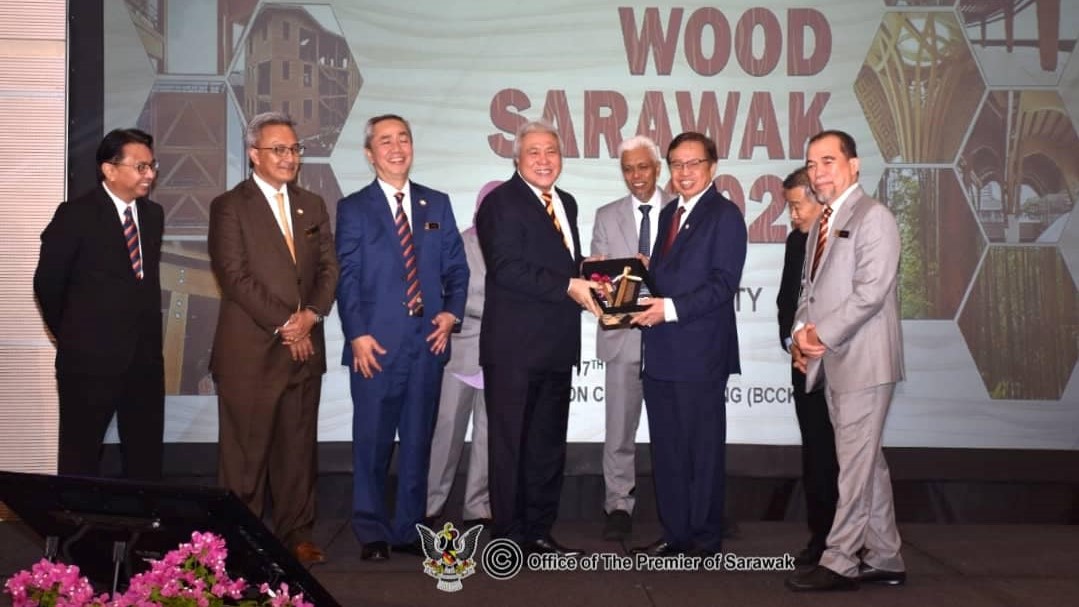 KUCHING, 17 May : Premier of Sarawak, Datuk Patinggi Tan Sri (Dr) Abang Zohari Tun Openg said the timber industry has been identified as a significant economic sector for Sarawak's transformation into a developed and high-income state by 2030.
Under the Post COVID-19 Development Strategy 2030 (PCDS2030), the sector is targeted to generate an annual export earning of RM8 billion by 2030. He said this in his address at the International Conference Engineered Wood Sarawak 2023 at Borneo Convention Centre Kuching (BCCK).
"It is crucial to continue developing this industry in a sustainable manner. To ensure strict compliance to forest management requirements, all long-term forest timber licences must be certified under the Malaysian Criteria and Indicators for Sustainable Forest Management (MC&I SFM) by 2025," he said.
Moreover, he said, the development of planted forests must be enhanced to produce high-yield and good quality logs to accelerate growth for the domestic timber downstream industry. This will help Sarawak move towards a more value-added approach to its timber industry.
"Sarawak is rich in renewable biomass resources particularly rubber wood, bamboo, sago, oil palm trunk and Acacia mangium. These resources are good for the production of high value products particularly solid biofuels such as charcoal, pellets and activated carbon.
These products can substitute energy sources from petroleum besides mitigating greenhouse gas emissions," he said.
The Premier added, it is vital that industry players embrace innovation and transformation by migrating from primary-based industry into high value-added processing industry with innovation, automation and adopting the National Fourth Industrial Revolution Policy (IR 4.0) using timber from planted forests to produce high value-added products such as engineered wood, panels, furniture and bamboo-based products for global markets.
He said, with the aim of developing a thriving society driven by data and innovation to enjoy economic prosperity, social inclusivity, and environmental sustainability. The goal is to double the size of the economy from RM136 billion in 2019 to RM282 billion in 2030.
"To achieve the target of doubling our economy by 2030, we need to grow at an average of six to eight percent per annum. Our ultimate goal is to ensure that Sarawakians enjoy equal opportunities to participate in the state's development, with a focus on creating jobs and business opportunities in all sectors," said the Premier.
Moreover, he said, Inclusive society means that all Sarawakians will have equal opportunities to participate in the state's overall development and enjoy equitable distribution of wealth through jobs and business opportunities.
"Environmental sustainability is an integral part of Sarawak development initiatives. This is to ensure a clean and healthy environment for current and future generations", he said.
Moving forward, Sarawak will innovate using data to increase productivity, develop high value products, improve safety of our people and assets as well as enhance environmental conservation efforts, he concluded.
Sumber dari : Sarawakku