Abg Jo Officiates Earth Breaking Ceremony of Batang Lupar Bridge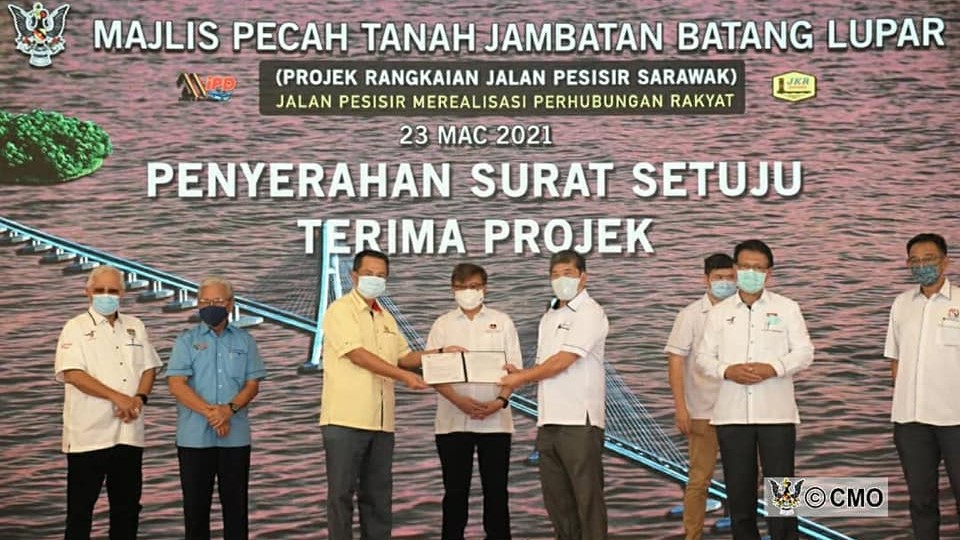 Chief Minister Datuk Patinggi Abang Johari Tun Openg officiates at the earth-breaking ceremony of the Batang Lupar Bridge.
The ceremony take place at the project's site in Sebuyau, about 1.5km from the Sebuyau Ferry Base. The ceremony was originally scheduled for Feb 18 but was postponed to today due to concerns about the spread of Covid-19 in the state.
The bridge, to be built in 48 months, will connect Sebuyau to Triso as well as replace the ferry services along the river.
The Batang Lupar Bridge is among the nine bridge projects across the state planned by the Sarawak government to connect the coastal road.
Estimated to cost RM5 billion, the 896-km coastal road will materialise once the construction of the Batang Lupar Bridge is completed by 2025.
Abang Johari said when completed, the RM848 mln, 5.1-km Batang Lupar Bridge, would take over the Batang Sadong Bridge as the longest river crossing in Sarawak.
It will also be the longest river crossing bridge in Malaysia.
The initial cost to build the bridge was estimated at RM1 billion. The state government, however, was able to reduce it to RM848 million.
"With the completion of the bridges, rural folk will no longer have to travel to the cities and back by ferry, which was time-consuming especially during festive periods and weekends.
"Most important, all the bridge projects will be toll-free."
Sumber dari : Sarawakku