Uggah: All DID Rice Scheme Facilities To Be Upgraded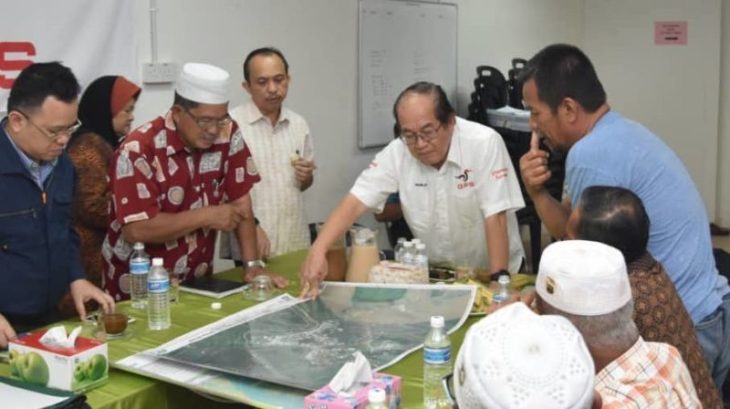 Uggah at a meeting with the affected farmers
BETONG, Sept 2: Poor rice yield at Tanjung Sebukut, Spoah has resulted in an overall upgrading of facilities under Department of Irrigation and Drainage (DID) Sarawak Rice Scheme.
Deputy Chief Minister Datuk Amar Douglas Uggah Embas said there were about 40,000 hectares under the DID Rice Scheme areas statewide including 500 hectares in Tanjung Sebukut here.
Uggah who is also Minister of Modernisation of Agriculture, Native Land and Regional Development, said sadly, many of the facilities in the scheme areas have problems of poor maintenance and rundown facilities, resulting in inadequate drainage and irrigation power and ultimately poor productivity.
"For instance in Tanjung Sebukut here, the yield by each farmer is below two metric tons per hectare which is very low. We may need to bring in more culverts at new strategic points, building new drains.
"We will wait for the reports from other such schemes and part of the reports are expected to reach us by this September 11," he said during a working visit to the Tanjung Sebukut DID Rice Scheme earlier today.
Meanwhile Uggah added a Memorandum of Understanding (MoU) would be signed between the private sectors, the farmers and farmer's organisation of the area for the development of the Tanjung Purun DID Rice Scheme this coming September 5.
"This is the first one that we are implementing and if it proves to be a success we will use it as our model in other areas," he said.
Earlier Uggah had a brief meeting with committee members of the Tanjung Sebukut scheme led by its secretary Abdul Karim Jawi.
Also present were a political secretary to the chief minister Dr Richard Rapu and Betong Division DID engineer Bartholomeu Emily Ayu. — DayakDaily
Sumber dari: Dayak Daily